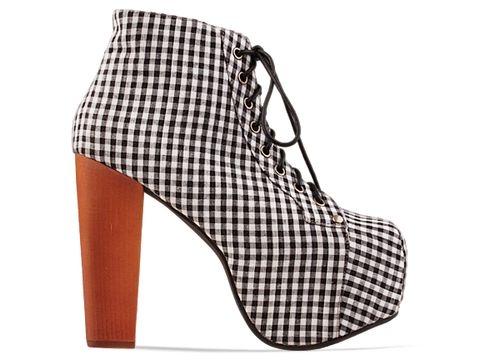 Let's get some shoes - my ultimate lust list:
1. Wedge Converse heels




So many options! I'd like to get them in a bright, popping colour like pink or turquoise. Unfortunately these are Korean-made (i.e. the sizes are small!) and most manufacturers don't have my size :(
(Before anyone says anything - yes, I am well aware that these are not real All Stars, but Converse have long discontinues their wedged collection. Nothing I can do there.)
2. Red or Dead's Shirley mary janes

These are just WONDERFUL. They also exist in black, gold and silver, but the red ones have awoken my childhood dream of owning Dorothy's Ruby slippers (pssst, here's a secret: I've seen at the V&A the original Ruby slippers, and the Harry Winston copy made out of actual rubies and diamonds, reportedly the most expensive shoes in the world... and they're not that nice. No, really. The kitten heel is awkwardly square and they look chunky. These are much better.)
Unfortunately it seems that the size 6 pairs are sold out EVERYWHERE. If you see or have a pair up for sale, please let me know!! (You can email me at milliefreakingfrench@gmail.com)
...Well, okay, maybe the Harry Winston ones are nice, too.
3. Jeffrey Campbell 'Litas
These shoes rule
These shoes rule!
These have been spotted everywhere for a couple of seasons now, and I can see why. These shoes rule! (I'd be paranoid about going up and down the stairs, though).
4. Andreia Chaves' Invisible Shoes
Concept shoe designer Andreia Chaves has many tricks up her sleeve, but nothing beats the ingenious design of her Invisible Shoes. The pictures speak for themselves! These are actually for sale, price quoted upon request... I don't think I want to know.
5. Julian Hakes' Mojito shoes
What happens when an architect designs a pair of shoes? This.
These shoes are 300 dollars. These shoes are 300 fucking dollars. Let's get 'em.
(Actually, they're about 175 quid)
Oh, for those who are wondering what the hell I've been referencing throughout the post:
Let's party.